(I have been encouraged by many to continue this blog providing my unique perspective on our City and the many issues we face as Constituents particularly in Ward 19.)
My last blog discussed the disturbing trend of our City Council (and the City of Toronto) hiring consulting firms that source out our data using online surveys that are using foreign servers to collect sensitive data with respect to our usage of Taylor Massey Creek Park. This data was compiled to provide feedback on the proposed themes, strategies and potential projects put forward by the Taylor Massey Creek Park Planning Study conducted by Parks and Forestry for the City of Toronto. https://www.toronto.ca/city-government/planning-development/construction-new-facilities/taylor-massey-sub-watershed-master-plan/
Led by Lura Consulting Firm, "The recommendations were evaluated and feedback was solicited from stakeholders and the public through an on-line survey. They were subsequently refined and will form a springboard to guide future management decisions in various parts of the Study Area beginning first with Taylor Creek Park."
"Online Survey: The community was invited to review the preliminary recommendations, and high level implementation and management considerations and provide feedback via an online survey. A snapshot of the feedback provided through the online survey has been integrated into this report; the detailed outcomes of the public survey are captured in the Online Survey Summary Report, available in Appendix A of this report.
1.7 Data Sources
The data set for the project was obtained from four sources including: Dougan & Associates Ltd., North-South Environmental Inc., the City of Toronto and the TRCA.
The majority of the data set was provided in Arc GIS, and is georeferenced to actual site locations. The Geographic Information Systems (GIS) data gathered includes stored databases that can be regularly updated. A key recommendation emerging from this Master Plan process is the standardization of data gathering, sharing and updating amongst agencies and divisions in the City of Toronto going forward. Data management is a valuable tool for monitoring and tracking management activities and trends."
Please see the results of the online survey conducted by Lura Consulting firm here:  https://www.toronto.ca/wp-content/uploads/2018/09/8f31-taylor-massey-plan-survey-summary-2018.pdf
"Promotion of the Online Engagement Platform
The online engagement platform was available from July 25th to August 17th 2018. To promote the online engagement platform, the City of Toronto sent notification emails to internal and external stakeholder lists, including local councilors, and asked recipients to share the notice widely amongst their networks. The platform was also promoted through the Toronto Forestry (@TOtrees) twitter account.
Additionally, two public "pop-up" events were held to promote engagement through the online platform. Pop-up events are a method of public engagement used to intercept people who would otherwise usually not take part in a public engagement process (e.g. unlikely to go to a public meeting, be registered on project lists, or search out feedback opportunities online). These popups were held in Taylor Creek Park on July 27 and 28, 2018, north of Stan Wadlow Park, for 3 hours each day. People who stopped by the booth were provided with a project business card and told to visit the online platform to provide additional feedback until August 17th. A self-guided tour was also promoted at popups to encourage participants to think about management issues while traveling through the park (see Appendix B). In total, approximately 190 people were engaged through popups."
As anyone can see these forms of public engagement were supposed to be widely publicized by our City Councillor. If you are not online, don't have a twitter account, are not a follower of the Councillor's twitter account, or don't receive the Councillor's newsletter – how could you possibly know to participate.
Having discovered that the online study was stored on a foreign server (Australian) and was collecting your email address (or fake one if you chose not to use your own) – how could one possibly know to participate in this survey. How valid are the results of such a survey.
Only 190 people were engaged in the Pop-Up events in the ravine.
The number of participants (real or fake) have not been included on the study results website or the Taylor Massey Creek Park Study Plan by the City of Toronto.
Please also find enclosed (one of three) tweets forwarded by Councillor Davis that were linked to spam 3 times on her twitter account. This is unacceptable from an elected official.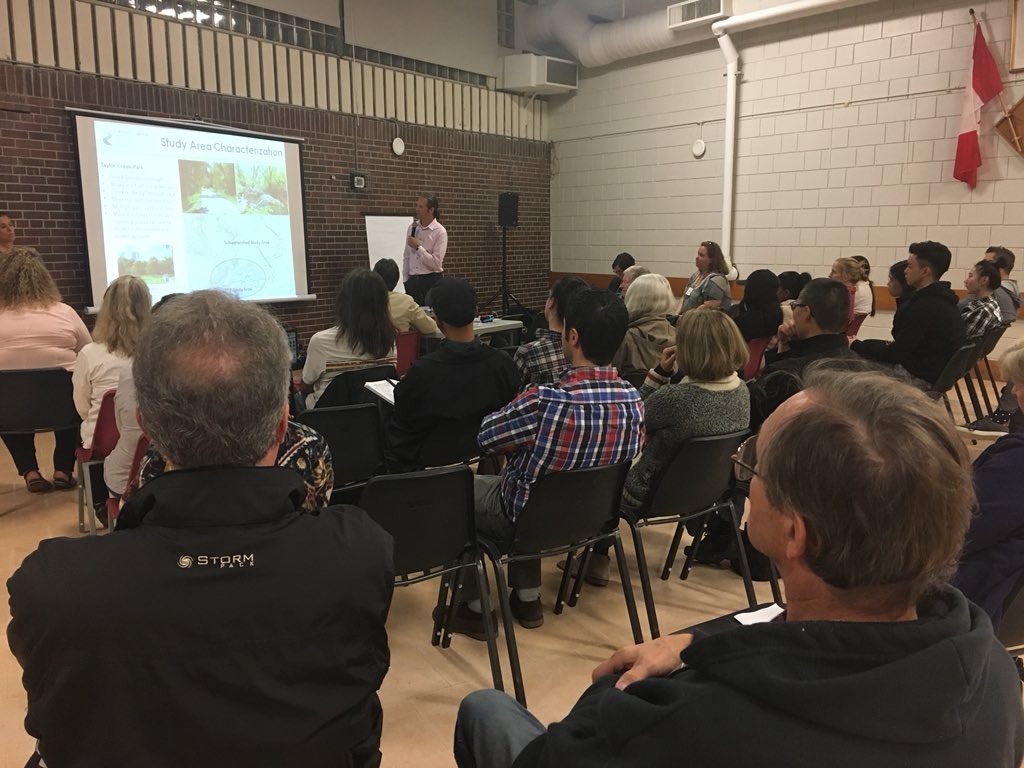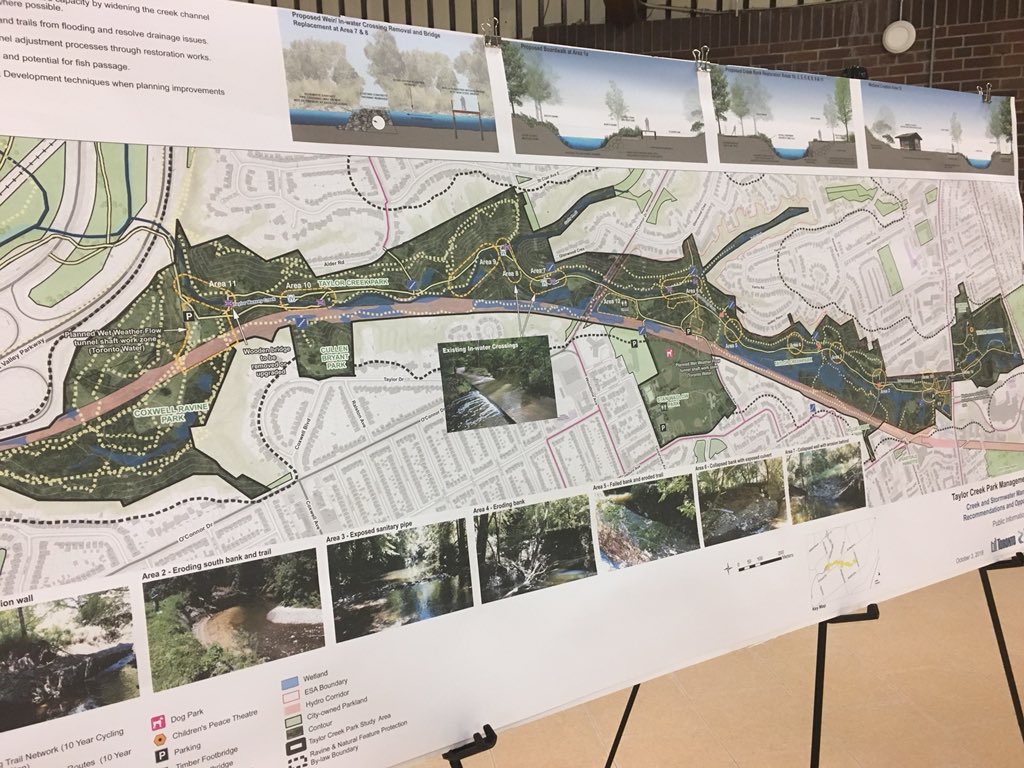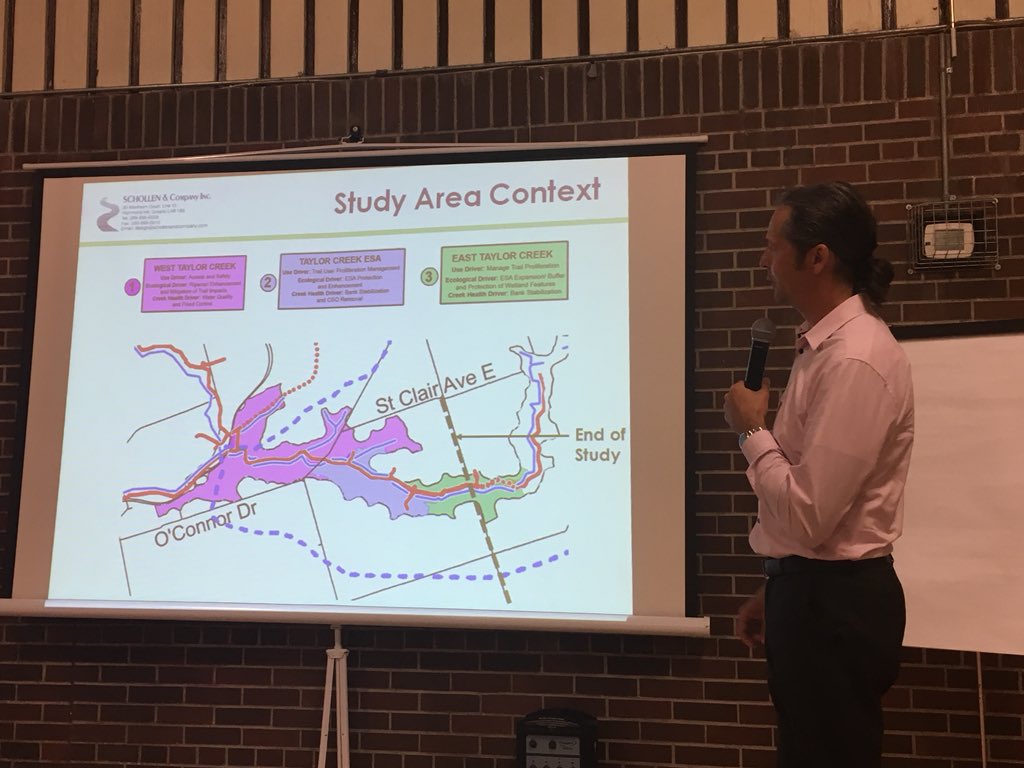 This is the very limited information provided by Toronto Forestry to participate in their online survey.
Toronto Forestry (@TOtrees)
The scan't amount of notice to Constituents regarding this important watershed in East York Toronto is astounding. Our City Councillor directed Constituents to a spam page for Study results. What is wrong with this service from our local government and our representatives.